Welcome to Farm & Garden Station
Family owned and operated in Ivyland, PA since 2002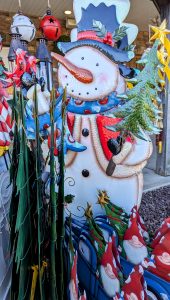 30% Off – Metal Yard Stakes 
Cut Christmas Trees, Poinsettia, Fresh Greens and Holiday Decor.  Hand decorated cemetery blankets, wreaths, planters and window boxes.
Topsoil, Bulk Stone & Mulch
Deliveries Monday thru Saturday
Everything you need for your DIY landscape projects
Farm & Garden Station offers a variety of gardening products including: flowering annual and perennial plants, trees, shrubs and vines. At the Farm & Garden Station, we can provide everything from the common to the uncommon.
We also sell gardening-related products such as imported pottery, statuary, tools, fertilizers, soil amendments, mulch, compost and potting soil. We have bulk stone, dehydrated manure and mulch available for pick up or delivery.
In the Fall, we have a huge selection of specialty pumpkins, squash and gourds along with "Pick Your Own Pumpkins" on our farm.  Our mums and ornamental cabbage & kale are very popular every year.  Our own bales of straw and bunches of corn stalks are available in September and October.  We also have a huge selection of Halloween and Autumn decor.
During the Christmas season, we sell fresh-cut trees, living trees, premium Poinsettias, wreaths, cemetery grave blankets and garland. We are happy to custom decorate wreaths and grave blankets for you, or you can choose from those we have decorated. We always have a large selection of quality items!
Latest Articles
Although many gardeners plant trees and shrubs in the spring, knowledgeable gardeners plant in the fall to take advantage of all this fabulous season has to offer. But why is fall planting better than spring planting? Stress Reduction Transplanting causes stress as plants are removed from containers, balls or established locations and changed to new […]
Continue Reading →
Ideal for fall gardens, pansies offer a colorful display for almost six months – in the fall when they are planted, in the winter during a stretch of sunny days and again in spring! Winter pansies may be planted anytime starting in mid-September and continuing through October.
Continue Reading →
Winter wind and sun are responsible for much of the injuries your landscaping plants will sustain over the winter. The elements are especially hard on broadleaf evergreens such as rhododendrons, hollies, mountain laurel and boxwood.
Continue Reading →